Yes. One of the main advantages of channel glass is the great flexibility it gives design teams for how it can be specified and installed.
Vertical Applications
Channel glass that is installed vertically can stretch up to 23 ft (7 m) without interruption. It is important to note the building's design-imposed wind loads, as this will determine the maximum length of the cast-glass channels. Depending on the setting, it can span multiple stories. Long lengths of Pilkington Profilit span multiple stories in the Evergreen State College Seminar II Building.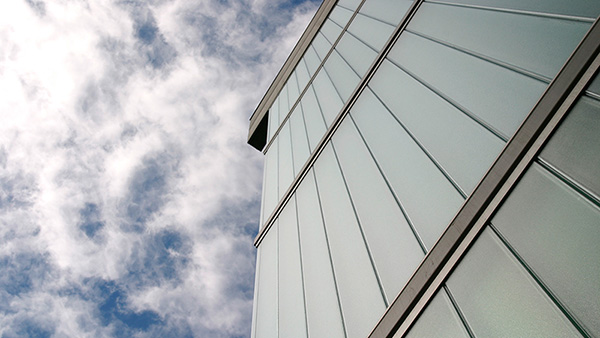 Horizontal Applications
When installed horizontally, channel glass is most often dual-glazed. Applications are typically limited to 13 ft (3.96 m) segments. Consult the manufacturer's or supplier's wind load charts for lengths in high-design-load areas. The horizontal channels can be stacked to virtually unlimited heights.
The shorter length for horizontal channel glass ensures adequate structural support. Longer lengths may be achieved through the use of wind anchors. Special framing members are used for horizontal applications. See our architectural specification manual for details. You can also see how vertically installed Pilkington Profilit was used at the Burlington Library in Ontario, Canada.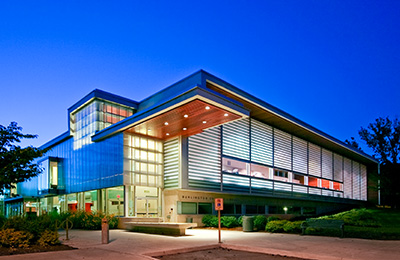 Curved Applications
Channel glass is also well-suited for use in radius and serpentine walls. In fact, the slender frames and narrow glazed segments in channel glass systems allow for tight radii – as low as 6'6". To create a curved or serpentine channel glass system, the aluminum framing is stretch-formed into a radius. Glazing contractors then segment the cast-glass channels around the framing to form a curved or serpentine configuration. The planks can be dual- or single-glazed depending on project needs, but they can only be installed vertically in curved applications. Want to see a real world application of a curved installation? See how a tightly curved radius of Pilkington Profilit was used at Temple Beth Sholom.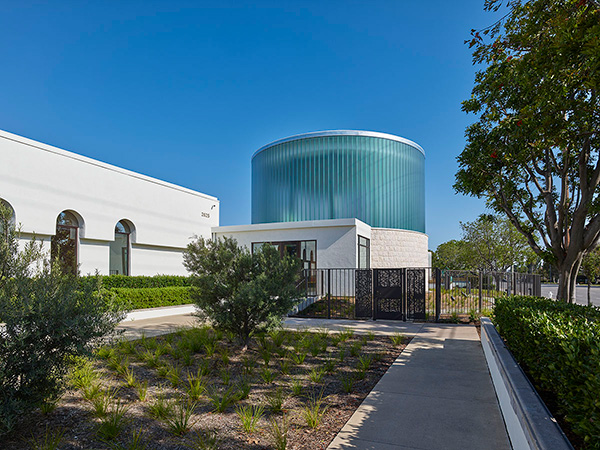 Raked Heads and Sills
Another option when using channel glass to enhance a building's form is to incorporate raked heads and sills. In these instances, the head and sill of the cast-glass channels change elevation gradually across their width. They make it possible for design professionals to break out of the typical, linear channel glass mold and create vertical applications with angles and curves, such as trapezoids.
Since raked heads and sills have varying elevations, the individual channel glass segments are cut on an angle to fit the opening. During this process, the entire plank is cut, rather than the inside corner, to ensure the glass segment is not at risk for failure. Since it causes the left and right sides of the glass to be different lengths, it is important to avoid errors in the surrounding opening size or frame placement to ensure the glass is secure, plumb, and properly fitted. In the University of San Francisco, John Lo Schiavo, S.J. Center for Science and Innovation building, Pilkington Profilit was used in a raked installation to help transition the façade between curved and straight sections. Read more about it here.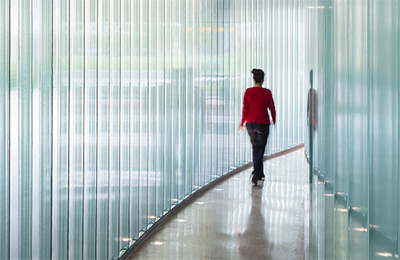 © NBBJ
Vertical Fins
One current design trend orients channel glass as vertical fins on buildings. In such instances, the planks, or 'fins' protrude perpendicularly from the flat face of the building for privacy or to create aesthetic interest. Since the fins are a decorative, rather than structural, element of the building, engineers typically calculate and treat them as a 'corner condition,' even if they are located in the middle of a wall far from a corner zone.
Glass calculated to accommodate higher stress loads typically results in lower allowable glass spans and often requires greater frequency of anchor locations on the framing. Treating fins in this manner ensures they are stable as the pressure increases when the wind moves directly at and around them.
Read how vertical fins were used on the Parc on Powell project in California.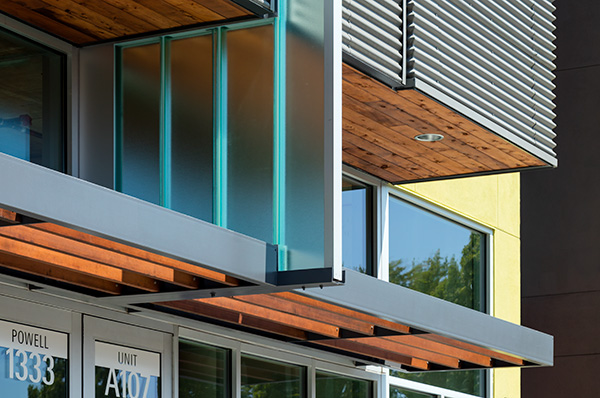 Glass Corners
Glass corners in a channel glass system eliminate the need for additional framing. Corners are not limited to 90 degrees but can be created in a wide variety of angles. Special L-angle segments enhance the flexibility of channel glass systems. See how glass corners stand out in the Building 115 project in Seattle, WA.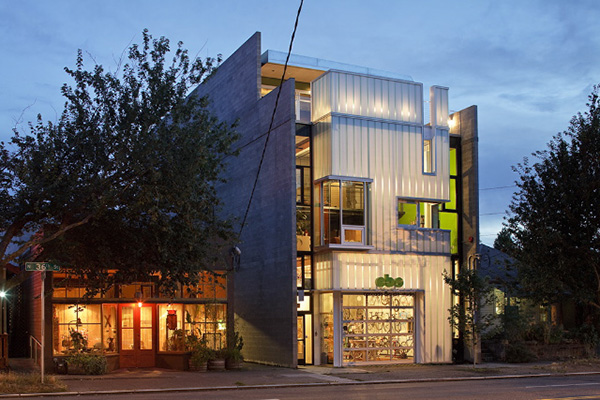 No. Any glazier experienced with commercial and storefront construction will be able to work with channel glass. Whatever the application, channel glass (as well as any spacers and framing) should always be installed in accordance with approved shop drawings and the manufacturer's printed installation instructions. It must be plumb, level, square and free from warp or twist while maintaining dimensional tolerances and alignment with surrounding construction.
Channel glass needs to be sealed continuously on both sides of glass between frame and glass and between linear glass segments. Install perimeter joint sealant and backing materials between assemblies and adjacent construction.