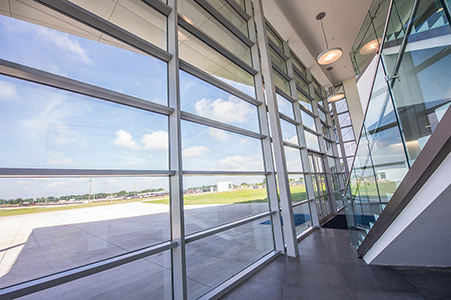 Glazing Contractor: Binswanger Glass Company
Throughout much of history, buildings were constructed with their outer walls serving as part of the structural support of a building. But when structural steel and reinforced concrete entered the picture, a building could be supported by relatively thin columns, independent of the exterior walls. This, in turn, freed walls from the burden of having to carry structural loads. With fewer restrictions, architects could re-envision the outer façade of a building. The exterior wall was nothing more than a curtain, hence the term "curtain wall" was born.
Today, the term curtain wall describes non-structural, non-load bearing walls on or in the exterior skin of a building. These walls serve as a "curtain," separating the exterior weather from mechanically conditioned interior spaces. Curtain walls are also suitable for interior applications like multi-story atriums or stairwells where the separation of space is necessary.
Curtain walls are typically composed of aluminum or steel frames that contain infills of glass, thin stone or metal panels. The frames are connected to support and anchor the assembly back to the building structure. This enables design teams to set a building's skin apart from its structure, achieving a specific design intent while providing thermal and moisture separation between exterior and interior spaces.
What is the difference between a storefront and a glazed curtain wall?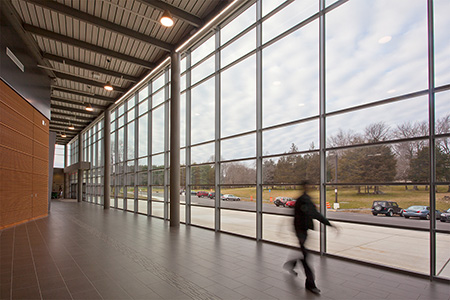 A storefront is similar to a glazed curtain wall in that it is non-load bearing. However, one key differentiator is that a storefront is generally restricted to a single-story application. It is usually employed at ground floor applications. Storefront systems also generally have lower performance standards for air- and water-resistance testing than those employed for glazed curtain wall systems.
Given its specific use, storefront profiles tend to be smaller and their heights more limited when compared to curtain wall systems. Storefront systems also frequently incorporate doors, usually from the same manufacturer. In these instances, the combination of the glazing and door system as a whole is considered the "storefront."
By comparison, a glazed curtain wall is meant for taller, multi-story applications (anything from low- to hi-rise buildings). In many instances, it is designed strictly as a glazed system rather than one with doors. Glazed curtain walls also offer more resistance to air and water penetration than a standard storefront. Additionally, they tend to perform better structurally in higher wind load applications. These conditions are normally found higher on a building's façade or at corner conditions, rather than the street level entrance type situations where storefronts are employed.
Is there a difference between unitized and stick-built glazed curtain walls?
Yes. In a unitized (or modular) system, the framing materials, component parts and glass lites are pre-assembled and glazed in the factory. They are then shipped to the site as complete units ready for installation. This approach requires significant engineering and assembly resources at project inception. Involved parties must detail, fabricate and then fully assemble, glaze and seal the unitized wall panels under controlled conditions in the factory. All of this must occur before the panels are shipped to the site. The panels are generally one vertical module wide by one story tall. Today, these systems have been developed to the point where very little unit-to-unit sealing operations in the field are required. Perimeter conditions are generally treated in a similar fashion to stick systems.
With a stick-built system, the various framing materials and component parts are erected in place in the field. To make this process possible, the parts are first fully fabricated prior to shipment to the site. They are then assembled, sealed and glazed on site. This approach helps simplify transportation. To help standardize and expedite the installation process, some steel curtain wall system suppliers have developed all component parts to the point where a complete system is available. This includes connection detailing and hardware; gasketing; exterior pressure plates and cover caps; complementary door and entry systems, as well as detailing.
What are the different types of framing materials for glazed curtain walls?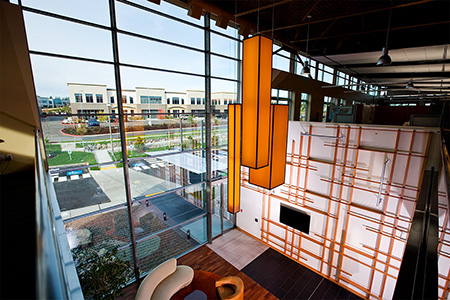 Building and design professionals have two primary options when it comes to selecting framing materials for curtain wall systems: aluminum and steel. Wood is also emerging as an increasingly viable option.
Many design professionals are already familiar with aluminum as a fenestration material. It is lightweight, readily available, corrosion resistant and adaptable to many different designs.
New to many design professionals is the fact that manufacturing innovations have allowed steel framing to reemerge as a favorable material for glazed curtain walls. By employing advanced material forming methodologies pioneered in Europe, it can now be used as the primary framing material for tall, uninterrupted expanses of glass. These processes capitalize on steel's strength over more conventional aluminum framing. This allows steel systems to support larger wind loads, larger lites of glass and meet more demanding project criteria. Learn more about steel vs. aluminum curtain walls.
While wood is a relative newcomer as a framing material for curtain wall, the use of timber or glue-laminated members make it attractive aesthetically for some applications. Most "conventional" curtain wall manufacturers don't engineer or fabricate the wood members. Traditional sourcing of the wood framing is coordinated with a glazing subcontractor, who can apply a glass receptor system to the face of the wood members to accept the glazing infill selected by the design team.