Why is steel a good alternative to aluminum curtain wall?
The use of steel in curtain walls dates back more than a century. When aluminum extrusions became widespread in the 1950s following WWII, aluminum quickly eclipsed steel as the material of choice in curtain wall and storefront fenestration systems. It was lighter in weight, readily available, corrosion-resistant and adaptable to many different designs. Simply put, aluminum combined design flexibility with long-term performance in a way that steel of previous generations could not offer.
Today, steel is reemerging as a leader in high-performance framing for glazed curtain walls. Using a roll-forming technique in which continuous steel coils are forced through dies and laser-welded into closed shapes, manufacturers can produce steel frame members in long lengths and various complex shapes, overcoming limitations with hot-rolled steel. Steel, when shaped or formed in this manner, is much more versatile. By combining design flexibility with strength, steel can now outperform traditional aluminum in significant ways.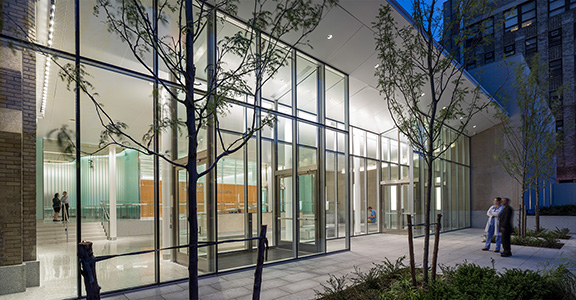 Strength
Steel has inherent physical strength advantages compared to many competitive systems. It is approximately three times stiffer than aluminum (a Young's modulus of Elasticity of 2.9 x 107 vs. 10.0 x 107 psi). This can translate into smaller shapes without decreasing performance, allowing design teams to:
Use smaller system shapes, allowing larger views to the exterior while permitting a greater percentage of light to enter interior occupied spaces
Support larger lites of glass (or other glazing infills) than their aluminum cousins
Span larger heights without the need for reinforcing or more frequent connections to the building structure.
Wind Resistance
Today's steel framed curtain walls can handle a greater wind load than aluminum. For example, an aluminum mullion of 2.5 x 7.5 inches with a 5-foot mullion spacing at a 30-lbs/sf-wind load can span up to 12.5 feet, including the glass and exterior cap.
Due to the strength of a steel framing system, a similarly sized profile of 2.4 x 7.6 inches would only deflect one-third as much as aluminum under the same conditions, thus allowing a span of 17 feet before exceeding its deflection capacity. Another way of thinking about it: Aluminum framing systems require more frequent anchorage back to the structure.
Narrow frame profiles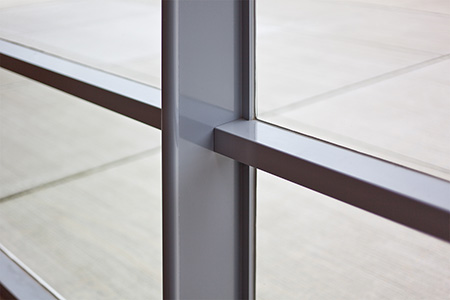 Cold-roll formed and laser welded steel curtain wall frames can be much narrower than their aluminum counterparts. They also have more well-defined edges and have corner joints with no visible weld beads or fasteners. Since steel is so much stronger than aluminum, it can support necessary load and deflection requirements of glazing in smaller profiles when compared with aluminum shapes/material.
For example, in a typical two-story curtain wall, unreinforced steel frames can be 1.74 inches wide and 5.75 inches deep. In contrast, an aluminum frame in the same setting would need to be 2.5 inches wide and 8 inches deep. Steel can reduce the overall frame dimensions by approximately 25 percent, creating less frequently interrupted sightlines through the façade.
Versatile Components
Since manufacturers can now produce steel frames in long lengths and various complex shapes, design teams can select from hollow-, I-, T-, U-, and L-shaped mullions or custom profiles. With advanced steel systems, a glazing adaptor can then overlay nearly any modular back mullion system, such as wood or hot-rolled steel framing, enabling it to receive glass or any other glazing material. See SteelBuilt Curtainwall Infinity™ System from TGP for more information on custom back members.
What are some benefits of using steel curtain walls?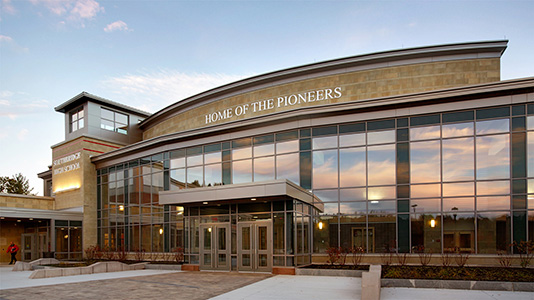 Slender, versatile and strong, steel framing offers several significant design advantages over traditional steel and aluminum mullion curtain wall systems.
Greater allowable free spans
Steel's load carrying capacity accommodates greater free spans than an aluminum curtain wall system of similar dimensions and applied loads. The increased free span size means the curtain wall can better support daylighting designs, while also helping reduce the quantity of vertical and horizontal mullions to lower installation costs.
Better support for large glass lites
Given steel's inherent strength advantages over aluminum, it provides the necessary support for heavy double- or triple-glazed units. As a result, it can support high-performance glazing to help offset solar heat gain in large glazed assemblies with marginal effects on the design intent.
Additionally, steel's load carrying capacity helps ensure the same performance criteria normally associated with aluminum systems, when applied to steel, does not compromise the strength of the steel members (causing bowing, sagging or joint failure), while at the same time allowing for smaller profiles than that of aluminum systems. These benefits can help building teams preserve the long-term appearance of the framing and reduce maintenance costs.
Improved Aesthetics
One of the most notable advantages of modern steel curtain wall framing systems is narrower frame profiles. Frames with narrower dimensions are less noticeable to building occupants and can shift the focus from the frames onto the view afforded through larger lites of glass. Additionally, they help to reduce undesirable shadows and lessen obstructive views in a space.
Greater design freedom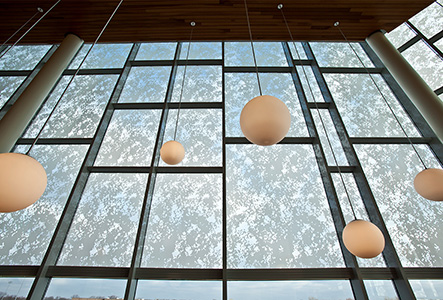 Today's steel curtain walls now have the versatility to take new building projects to the next level with complex applications and practices that can help to achieve an owner and/or developer's vision. In large part, this is made possible by a 'steel veneer'—or glazing adaptor.
The glazing adaptor can overlay nearly any modular back mullion system, enabling it to receive glass or any other glazing material. The adaptor is welded or fastened to the structural back member. As a result, it can attach to virtually any structural component that can support the curtain wall system's weight and imposed loads. This includes using the veneer connector to attach the curtain wall to glued-laminated (glulam) beams, I-beams or round steel tubes, among other structural members. Additionally, due to advanced steel processing methods, it can attach to steel mullions of different shapes, including hollow-, I-, T-, U-, or L-channels, and mullions with custom shapes.