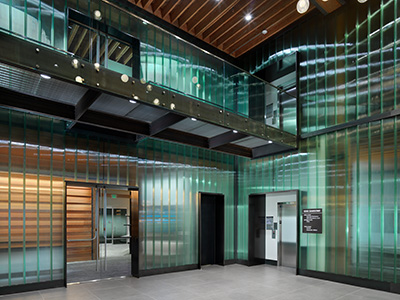 Photography: Rien Van Rijthoven
It's easy to recognize channel glass by its striking lines that give it a decidedly contemporary appeal. Channel glass systems consist of "U"-shaped self-supporting cast-glass channels held in place by an extruded aluminum perimeter frame, making for uninterrupted expanses of glass.
This specialized glazing has evolved over the years to offer more high-performance aesthetic alternatives to storefront and curtain wall glazing. Professional building designers use channel glass in single-story and multi-story applications. It is one of the most cost-effective glazing solutions for creating high visual impact and meeting performance criteria.
The glass is available in a variety of colors, translucencies and textures, allowing soft, even light to filter through while still maintaining an element of privacy.
Due to the unique U-shape of the product, manufacturers are able to cast channel glass segments in lengths up to 23 ft (7 m). The channels can be specified in multiple face widths, ranging from 9.13 in. (232 mm) to 13.03 in. (331 mm), with a consistent flange depth of 2.36 in. (60 mm).
Technical Glass Products offers Pilkington Profilit™ channel glass systems with a variety of design options to meet project needs.
Is this a single-glazed or dual-glazed product?
Both. Channel glass is suitable for use in both interior and exterior applications, either single- or dual-glazed.
In a single-glazed configuration, channel glass is commonly used for feature walls, decorative cladding, rainscreens and other applications where high wind or energy efficiency are not concerns. This provides opportunities to incorporate both natural and artificial light into the structure. In these applications, the planks can be set in various customized arrangements to enhance performance and achieve a specific aesthetic.
Dual-glazed systems typically function as part of the building envelope. In such cases, glaziers "nest" the channels in an overlapping fashion to provide extra strength against heavy winds. This allows design teams to use channel glass in place of traditional curtain walls and storefronts.
Another benefit from nesting the glass in this way is that it creates air-filled pockets that serve as thermal gaps. These enclosed spaces greatly reduce heat transfer.
Can channel glass systems be insulated?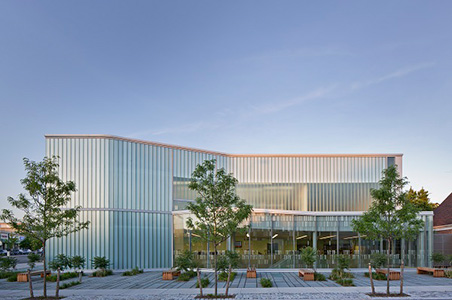 Yes. To enhance energy efficiency, dual-glazed channel glass systems can be insulated with inert-gas fills, such as argon or krypton.
Alternatively, Lumira® aerogel is one of the most efficient insulators compatible with channel glass. Lumira aerogel is made from a non-hazardous silica gel in which the liquid has been replaced with gas. This creates a solid with very low density (5% solid, 95% air) and incredible thermal performance. It is so light weight and porous that it is sometimes referred to as "solid smoke."
A highly cost-effective material, Lumira aerogel reduces heat transfer, condensation and unwanted noise. At the same time, the porosity allows soft, even light dispersion and minimizes unwanted noise.
In channel glass applications, the Lumira aerogel is encased in 0.6 in. (16 mm) or 0.9 in. (25 mm) polycarbonate panels. The panels effectively protect the aerogel against exposure to moisture, dirt and other such debris. Snap-on centering clips hold the panels in place in the glazing cavity and make for easy installation.
Adding translucent aerogel insulated channel glass panels in the gap created by nestled panels can result in a U-value as low as 0.21. The low U-value can help combat the need for perimeter heating or cooling systems.
Learn more about Pilkington Profilit™ Insulation from TGP. See how Pilkington Profilit with Lumira insulation was used at Queens Library at Glen Oakes in New York.